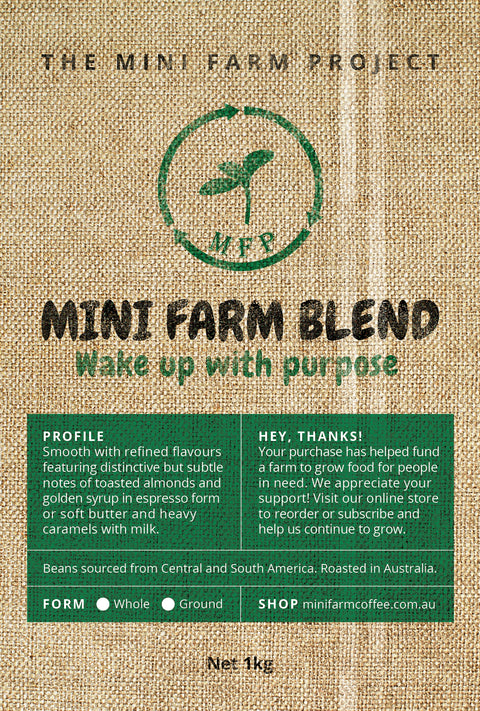 Mini Farm Project Ltd
1kg Mini Farm Blend Coffee - Ground
Hand-selected by our very own farmers, this premium blend of coffee beans features notes of toasted almonds and golden syrup when enjoyed as an espresso, and softer butter and heavy caramels with milk. 
Our beans are sourced from small farms across Central and South America, freshly roasted and packed in Australia, and sent to your door within 48 hours of purchase. 
Don't forget to choose your ideal grind before checking out!
From our Hands, Hearts and Soil, thank you for your support.
Mini Farm Blend Coffee Profile:
TASTE:
Espresso | Toasted almond and golden syrup
Milk | Soft butter and heavy caramels

BREW GUIDE:
Aged best Used | 7 - 32 days
Dose | 19 - 20 grams
Extraction | 30 - 40 ml
Extraction Time | 28 - 33 seconds

USAGE:
1 - 2 cups daily | 1 kg per month
2 - 4 cups daily | 1 kg per fortnight