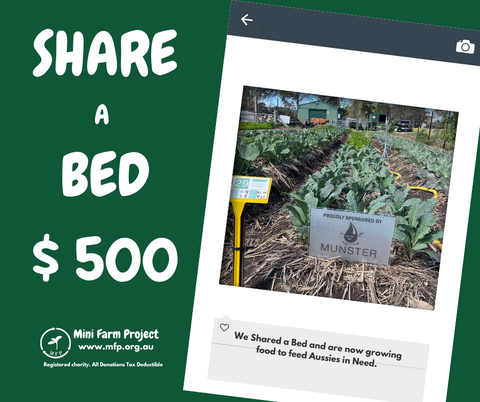 Mini Farm Project Ltd
SHARE A BED - $500 for a year - Tax Deductible Donation ABN 88606937286 The Mini Farm Project Ltd
Want to make a lasting impact on your local community?
You, Your Family or Your Business can now Give Differently and make a Tax Deductible donation to Fund one of our charity farms.
Did you know that over 2 million households in Australia, or 21% of the population, have experienced severe food insecurity in the last 12 months? Shockingly, 1.3 million children went hungry during this time. This means that many of our fellow Aussies are skipping meals or going whole days without eating because they cannot afford to buy food or have access to it.

We believe that as a country, we can do better. Our solution is to build a network of charity farms that grow a variety of foods, including vegetables, fruits, herbs, honey, chicken eggs, fish, and bush foods, all year round using a variety of growing methods.
When you donate you fund one of our farms and employ farmers to grow food to feed Aussies in need all year round.

You are recognised with:
An intro post on our social media pages;

12 Social media posts to add to your social media letting your followers or customers know of the direct impact you are making;

Invitation to an annual special and exclusive farm tour; and 

Periodic shout-outs on our social media accounts.
Our network of charity farms is a unique solution to a big problem.
Join us today and make a stand against food insecurity in Queensland.
Choose your farm below and sponsor a bed now.
Let's get growing!
Beds are currently available for sponsorship at:
Loganlea State High School, Logan

Millen Farm, Samford
The Mini Farm Project is a registered charity, all donations and sponsorships are fully tax deductible. 
ABN: 88 606 937286